A marvel not to be missed!
Walk through the doors of the Miyar house and enter a world of unimaginable heritage and architecture. Not on the regular tourist circuit while visiting Mangalore or Udupi, this stunning chunk of the world is not much known to visitors. One visit, with little expectations, while stepping inside, I would assure you, you will be stepping out over-satisfied (if there is anything like over-satisfied, that is). The pictures and the story is just to lead you to the place. You've got to be there in person to experience and travel in time.


Is it a museum? Yes and a No. It's a museum and more. It's different. A spectacular visualization of one person of not just bringing together the vernacular heritage structures in one complex but restoring them to their original glory, conserving, preserving and promoting the same. It's an achievement worth writing about. If one imagines it to be just about the old structures, then one would be wrong. Classic artefacts, textiles, tools, toys, utensils, furniture – you name it and you can see them in one of those many galleries inside the complex.


On a hot and humid day in the first week of September 2018, with not much idea what this highly recommended heritage village was all about, I paid a quick visit. Old structures are restored and you will like the place – you should visit it, my friend had insisted while I was in Udupi. On the way back to Udupi from a photography trip in Moodbidri, with a couple of hours to spare, I dashed off to the Heritage village after calling and checking about the entry timings. It was just about 3 pm and I was told that a guided tour of the complex was scheduled to start soon.
Ticket bought, I waited for the tour to begin. A corporate group was expected to join for the tour and within few minutes the journey began with the introduction by the tour guide Mr. Thomas. Hands on knowledge about the entire complex and structures and each and every detail about the exhibits inside the complex, Mr. Thomas took charge for the next 1 hour and 15 mins of the walk.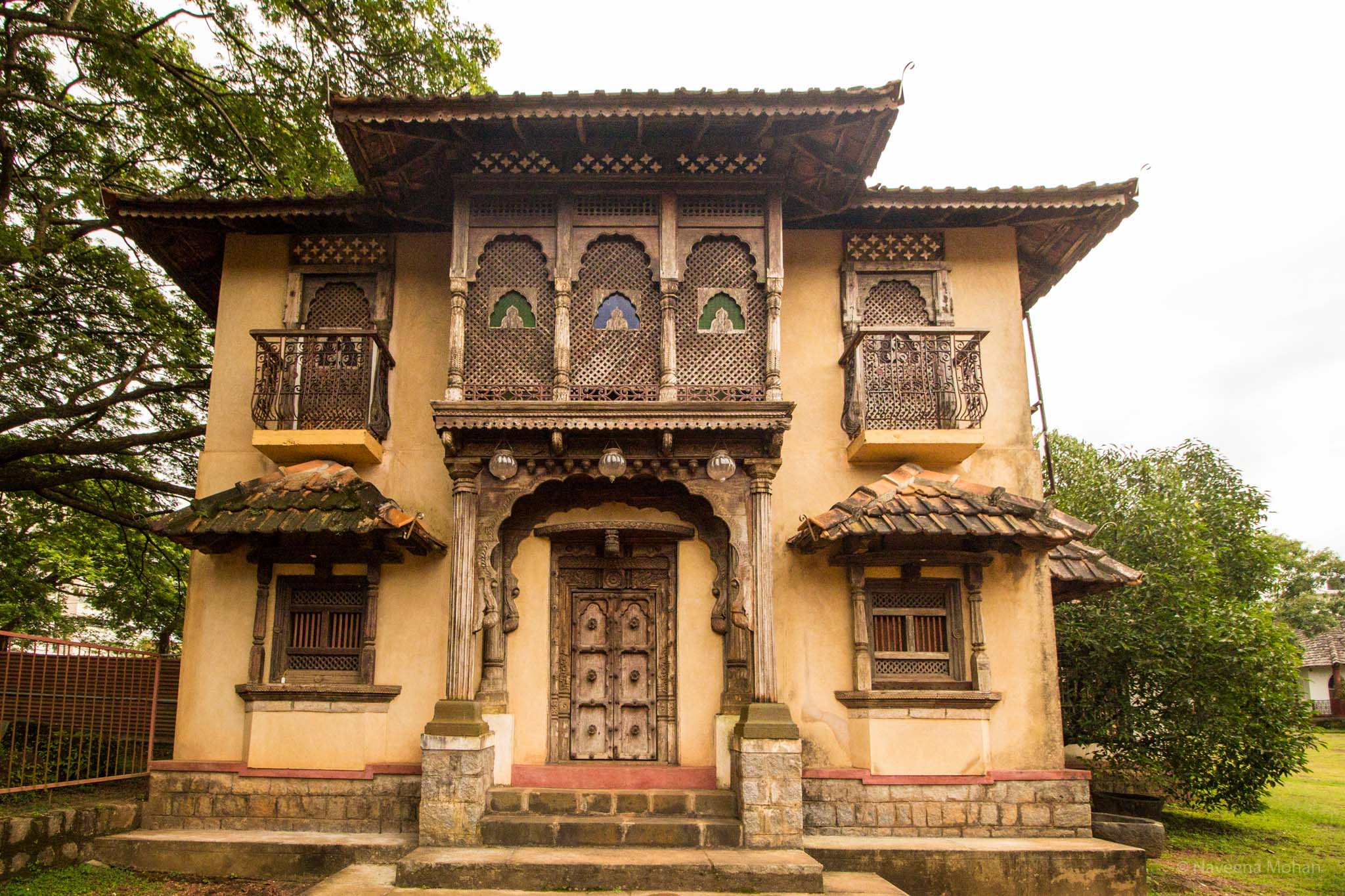 Located in Manipal, just a few kilometres away from Udupi (Karnataka), Hasta Shilpa Heritage Village Museum (HSHVM), a reality of today, was one person's brainchild and passion and now ably supported and managed by Hasta Shilpa Trust. A dynamic gentleman Mr. Vijaynath Shenoy, born in Udupi, and a bank employee by profession, was highly influenced by the culture and nature of the place where he was born and brought up. When modern constructions spread it's tentacles and took over the place bringing down rich heritage structures be it some royal residence, a temple, houses of traders or priests, in the name of development and easy maintenance, it disturbed Mr. Shenoy.
His deep interest in architecture and heritage and championing the cause of conservation of built-heritage – took the shape of the HSHVM, an open-air Museum – in 1997. He is known to have restored quite a few grand old heritage structures in their original locales whenever possible else translocated each and every piece of the structure to be constructed/assembled later in Manipal. A prolific writer, as I gather the details about him, his works have been greatly acknowledged and he had been honoured with many a befitting accolade during his lifetime.
Cart – A means of transportation of bygone era.
A Vintage Car. Yet another means of transportation.
Spread across a sprawling 6 acres of land leased by the Government of Karnataka, this complex houses traditional structures along with the wealth of antique furniture, metalware, royal heirlooms used in the very structures that have been restored in this village. The entire treasure trove is acquired from the original sources, put together appropriately and displayed in a manner that recreates the magic of the lifestyle and culture of different communities of people at different periods of time from various geographical locations. What a grand vision!!
With the retreating monsoons, the structures were not open to being explored from inside. A walk along the alleys of the complex with the tour guide and visit to each one of the structure was enlightening. We began from the Miyar house which happens to be the gateway to the Heritage Village. Fascinating details about the procurement of the structure, their relocation, the work involved and the history of each of the structure unfolded during the heritage walk.
Stories on Stones
Idols of worship
Some of the architectural marvels (palaces/residences) restored to its original glory are – Kamal Mahal of Kukanoor, Deccani Nawabi mahal, Mudhol Palace durbar hall, Mangalore Christian house, Kunjur Chowkimane, Harkur Olaginamane, Hungaracutta Bansaale Mane and many others. If one imagines the restoration is all about the palaces or residences from various places and periods, one would be in for a pleasant surprise. Relocation and restoration of temples/shrines, chariots, carts, craft bazaars, potteries, village markets etc are at its best in this heritage village.
Different types of pickle jars
Clocks – A typical watch repair shop
Kettles Collection
A confounding way to impress and inspire the creative and imaginative minds of the younger generation by giving them a reason to visit this Kashi of authentic traditional structures and understand and identify our roots and culture, this vision of Hasta Shilpa Heritage Trust surely is praiseworthy. Their mission and ventures in restoring and recreating more art galleries, museums and period properties may find more strength and support even in the future.
Verandah of a wealthy Mangalore Christian house
Restored independent house
Restored row house
The collection of soda bottles used ages ago
Various artefacts
A saloon of the olden days
Earthenware collection
Walking through the lanes and listening to the information provided about each structure, artefacts or the earthenwares on display, one can't help but feel that this village is a creation by wielding a magic wand and the magician bein Mr. Shenoy. Sheer hard work and time dedicated to such a massive project can just be admired.
Lamps and lampshades
Bangles
Ceramic ware
Antique Locks and Keys
Elegant wooden architecture and the details of many of these restored/translocated structures are elegant and rich.  The observing minds are treated to the rich life history, prosperity and sheer royalty of these structures which are infused with life through careful planning and restoration.
A chance meeting with Mr. Harish Pai (Joint Secretary, Hasta Shilpa Trust) was very pleasant. A few minutes of interaction and I could see the passion to carry forward the mission of the trust to greater heights and to make the heritage village more accessible to the general public, students and all those interested in treasuring our rich cultural and architectural heritage. As I have mentioned when I started writing this blog, I had stepped inside with little expectations but walking out over-satisfied with some indelible experience.
Woodwork – Harihara Temple
Woodwork – Harihara Temple
A highly informative website of the Hasta Shilpa Heritage Village museum provides interested visitors with complete information. Some parts of the heritage village and the tour of the structures to explore the interiors was not possible during my visit during the monsoon. The structures were kept locked for maintenance and upkeep. Kindly call the staff/in-charge of guided tours at Heritage village and enquire for the timings before visiting the place.
---
---
You might also like
---