It was in the first week of August 2018 that I had visited a few workshops in and around Borivali, Mumbai where the Ganpati idols were in the process of getting their final touches. Some were being painted and quite a few being embellished with semiprecious stones and a few other huge idols were still in the process of getting a smoother finish from the Plaster of Paris (POP) material which was being used. The blog I had posted about it can be read here.
It is September end now and well past the Ganesh Chaturthi festival. A bit late in posting details about my pandal visits, but nevertheless I am excited to post a short write-up with some interesting and vibrant pictures of the Ganesh idols that I happened to see during my recent pandal hopping spree. Ganesh Chaturthi a Hindu festival, is the celebration of the birth of Vighnaharta (remover of obstacles). It is celebrated over 10 days, starting the fourth day of Hindu Lunisolar calendar month Bhadrapada which generally happens to be in the month of August or September every year.
The festival was celebrated from September 13th to 23rd, this year. It seemed to have been carried out in great fervour and the colourful huge pandals and the elephant god idols seem to stand proof of the grandeur with which the festival was celebrated. Tall, short, some with a very intelligent look, a few other idols with excellent embellishments and many a idols unbelievably huge – got to see a varied variety of idols.
The very first pandal I visited was close to my residence in Borivali, Mumbai. The Shiv Mitra Mandal celebrated their golden jubilee and the Ganpati pandal decoration, as well as the Grand idol of the lord, was absolutely most attractive. Visited the pandal twice and spent some good time photographing the Ganaadhyaksha!
A beautiful idol of this लंबोदर (Lambodhara – Devanagari name for Ganpati meaning one who has a big stomach/appetite), is from the street where I reside. Simple and decorated with some colourful lights, the god glowed as the colour of the light changed.
A quick visit to a few pandals near Kandivali was yet another interesting event. Being my first pandal hopping spree, there was some hesitation about standing in long queues for darshan. But just a day before visarjan, I decided I wouldn't let go of this opportunity to see some Ganesh idols wherever possible.
Chose the hot afternoon to rush to the Pandals around Kandivali and that was a wise decision. Not much crowd and got some peaceful moments with the Siddhidhaata (bestower of success and accomplishments). An interesting thing about these pandals has to be the fact that the themes and the decorations are constantly changed every year to make it more interesting to attract more number of visitors.
Each street has a couple of pandals at least. Hence it was easy to hop into one after the other pandals closeby. A chance meeting of a photography crew in one of the pandals resulted in me venturing further away from home for a while to see some very interesting idols in Malad, Mumbai. Unique that the god is, it is noteworthy that he is the only god who has been interpreted in various ways and still not offending the religious or other sentiments of the people! Wooden Ganpati, Pani Puri Ganpati (yes, you read it right), Library Ganpati (busy with his newspaper) and a few other idols left me pleasantly surprised.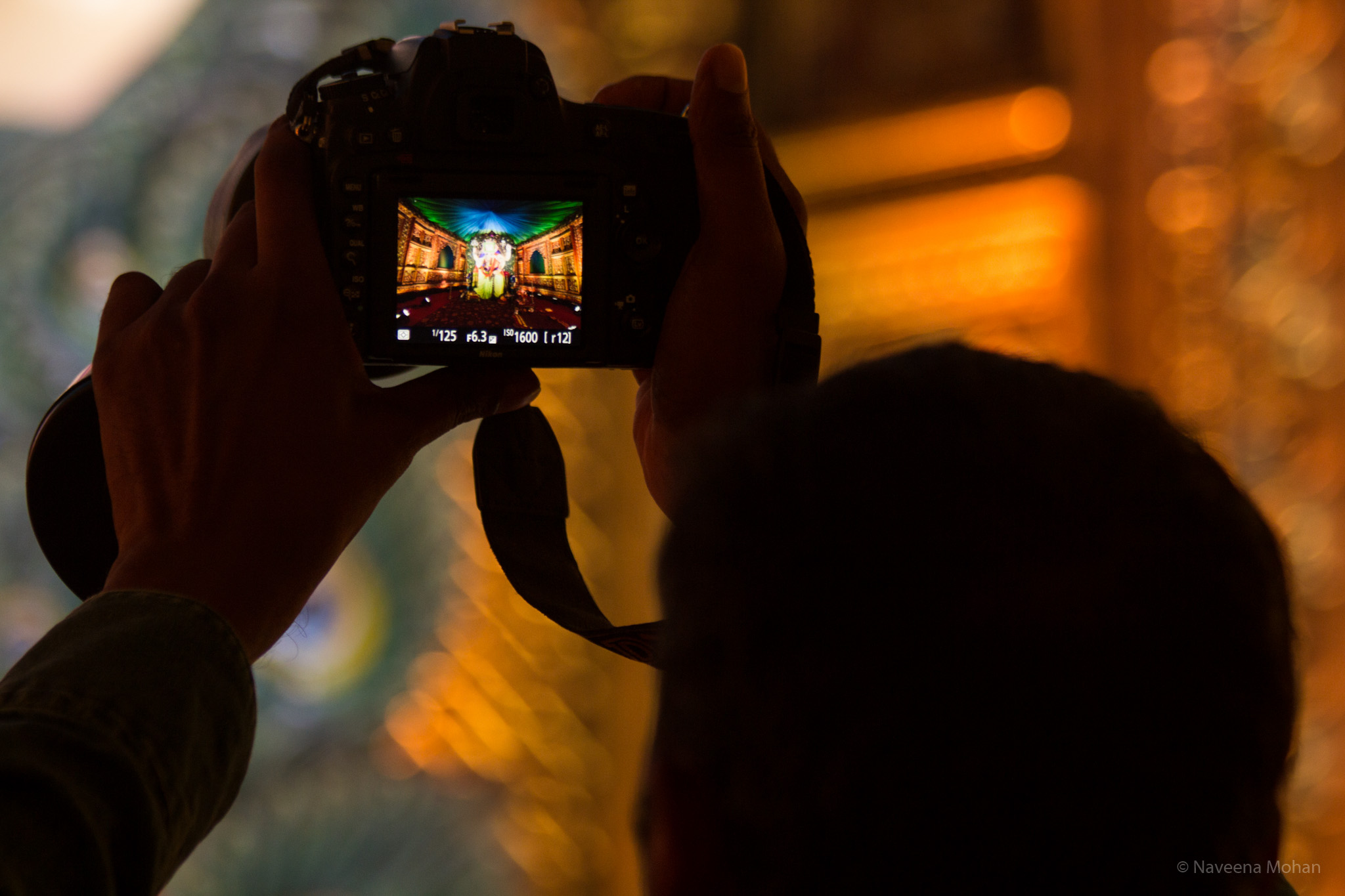 Cameras had the best time, I suppose! Colourful pics everywhere.
The creativity involved in making these idols and decorating the pandals to make them attractive and inviting to the public seemed infinite. A fun way to spend the day and take part in the festivities.
---
---
You might also like
---